Meet Alfreda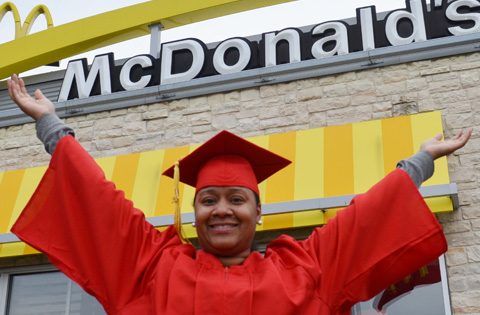 Alfreda Brown works as a General Manager for a McOpCo restaurant in Delaware, and has been with McDonald's for 13 years. A year after withdrawing from high school to raise her children, she started as a crew member with McOpCo.
After Alfreda was promoted to a General Manager in 2014, she learned about Archways to Opportunity. Although she had been embarrassed about not having a high school diploma, she took the plunge and spoke to HR and her Supervisor about enrolling in Career Online High School (COHS). And McDonald's paid all the costs – it was totally free for Alfreda.
Although she found COHS convenient, she shares that it was also a lot of work and that she had to shift her priorities. Alfreda was motivated to show her children and family how important this was to her. "I'm not only telling my children that education is important, I am showing them!" Her family rooted for her every step of the way.
"The COHS has taught me the value of hard work and persistence - and I am proud to say that I am 100% complete. I officially have my accredited high school diploma!"
Alfreda is now enrolled in college!